FrameDestination.com Celebrates 12,000 GalleryPouch(tm) Bags Sold with a Special $12,000 Giveaway
We're very happy to announce that Frame Destination recently produced and shipped its 12,000th GalleryPouch™ bag! This is an especially proud moment for me, Andrew Darlow, since it means that a product that I needed and that I helped develop has helped many others. Below is the press release for the announcement and a copy of the e-gift certificate. The promo code to save $5 on any GalleryPouch™ bag at FrameDestination.com is "GPSALE," and it expires on 5/31/2013 (click to view it larger and to see any terms for its use):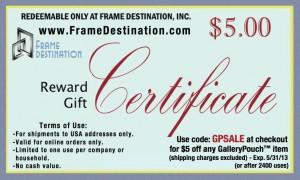 Frame Destination Inc. today announced that it produced and sold 12,000 GalleryPouch™ premium bubble bags since the company launched its GalleryPouch™ line in late 2009. To mark the milestone, the company has made $12,000 in e-gift certificates available for new and existing customers via a special discount code.
Mark Rogers, founder and President of Frame Destination says: "We're overjoyed to have reached this milestone for our line of GalleryPouch™ bags, and we're very happy to be able to extend a special offer for our clients in April and May."
GalleryPouch™ premium bubble bags are heavyweight bags made from 3/16-inch polyethylene that is smooth on both sides. The product was invented by photographer, author and consultant Andrew Darlow, and co-developed by Andrew Darlow and Mark Rogers after much research and testing. Darlow notes: "I feel very fortunate to have partnered with Mark Rogers and Frame Destination to develop the GalleryPouch™ line. What began as a something that I needed to protect my own work and the artwork of my clients has become a product that has been used to protect thousands items, from framed or stretched pieces of art to a host of other products. It gives me much satisfaction to know that I've been able to help many others solve the very common problem of being able to quickly and easily protect artwork, electronics, etc. with a bag fit to size, while still being able to see the internal contents."
GalleryPouch™ is available in two options: GalleryPouch™ w/ Velcro®-brand Closure and GalleryPouch™ w/ Flap. GalleryPouch™ w/ Velcro®-brand Closure premium bubble bags have an adjustable self-adhesive Velcro® sealing option. This option allows the customer to custom-tailor the height of the bag. GalleryPouch™ w/ Flap is identical to GalleryPouch™ w/ Velcro®, but does not have a Velcro®-brand closure. Customers can easily seal the bag with packing tape or other fastener.
Frame Destination has made $5 e-gift certificates available to new and existing customers in the form of a special discount code that can be redeemed on Frame Destination's website. The company has made the code valid until 5/31/2013 or after 2400 uses.
For more information, visit http://www.framedestination.com